Home of Downtown Alive
Tall trees, wide sidewalks and unique sculptures line Greenville South Carolina's Main Street. Downtown Greenville still has a hometown feel but is the thriving cultural and entertainment center of Upstate SC. In 2003 Greenville won the prestigious Great American Main Street award given by the National Trust for Historic Preservation. They described downtown Greenville as "rich with beautiful sidewalks, distinctive architecture, historic treasures and tremendous natural resources".

Why live in Greenville SC
Whether you are in the mood for Southern-style Downtown Greenville SCribs, Mexican, Asian or seafood, you are sure to find something here to whet your appetite. Greenville has over ninety restaurants and pubs clustered around Main Street in downtown Greenville.

A prime example of local pride comes on summer weekends when Main Street transforms into an open-air market. Hundreds of people flock to the Saturday Market in search of fresh vegetables, fruits and herbs as well as unique creations from various vendors.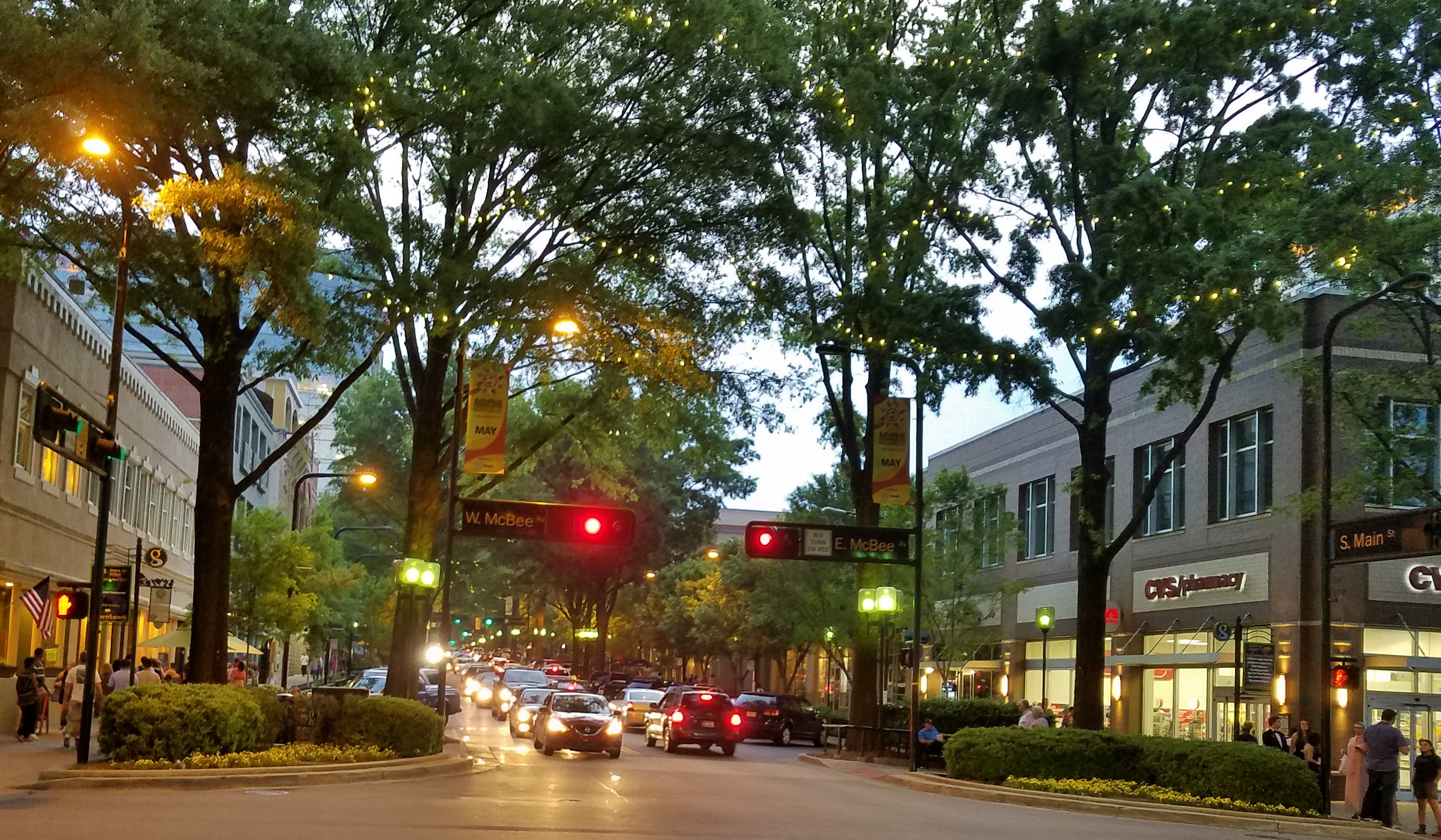 Visitors to downtown can enjoy a year-round series Greenville SCof special events, suited to the season and appealing to a diverse audience. From March through September, weekly concerts ranging from blues to jazz to beach music entertain visitors three nights a week, while larger downtown celebrations mark the coming of each new season. Every Thursday evening Greenville offers "Downtown Alive" which features live music, international foods and other family friendly events. Additionally, the downtown offers the wonderful Falls Park, an excellent place to relax and enjoy the outdoors. You won't get bored in Greenville, SC!

If you are looking for a unique place to call home, let us show you Greenville SC. It is a wonderful place to call home.


Where is Greenville SC

Greenville SC is located right in the heart of Upstate SC and offers diversity in culture and business. Greenville SC is along the Interstate 85 corridor which has brought much growth and foreign business investment to our area, and the future looks just as promising. A short drive from Greenville SC are beautiful mountains, lakes, and rivers that give the Upstate a unique geographic appeal and provide many sightseeing and recreational possibilities. Greenville is a wonderful place to live or visit. Greenville is also home to over 250 international businesses including BMW, Michelin, Bowater, and Fluor, making it a leader in business, research, and development in the area.



Greenville SC Real Estate For Sale and Subdivision Info


The Greenville SC Real Estate market offers many wonderful subdivisions and communities that you can call home! Some of Greenville's more popular subdivisions and communities include: Arcadia, Alta Vista, Augusta Road, Botany Woods, Chanticlear, Claremont, Cleveland Forest, Croftstone, Downtown Greenville, East North Street, East Park Historic District, Greenville Country Club, Highland Creek, Hampton Pinckney, North Main, Overbrook, Montebello, Parkins Mill, Richland Creek at North Main, Stone Lake Heights, Vista Hill, Summerfield, Swansgate, Vinyards at North Main, and Warenton.